Did you know that Portlaw has a protected type of mussel? Neither did we until we started working together with Portlaw on our next Street Art For The Goals wall. Speaking of which, isn't it beautiful? We're delighted to share it with you. Portlaw is such a beautiful location, home of the great All Together Now festival. It has so many unique attributes such as its perfect position sitting as a bridge between the Blueway and the Greenway. It also has a rich history of industry in cotton and tanning. This wall is a combination of Goal 9, Goal 14 and Goal 15 of the SDGs as Interpreted by Visual Artist Aga Krym. Goal 9 is all about building resilient infrastructure, promoting inclusive and sustainable industrialization, and fostering innovation. Goal 14 is all about looking after our oceans and seas by making sure we use them sustainably. Goal 15 is all about protecting and restoring life on the planet Earth we call home. It promotes the sustainable use of our land, aims to sustainably manage our forests and halt the loss of biodiversity.
Without thriving and healthy ecosystems we cannot flourish and so these goals are all about protecting and encouraging life for the good of us all.
Massive thanks to our funders and partners: Creative Waterford, Creative Ireland, #PeopleAndPlanet, DEAR Programme, Portlaw Task Force, Portlaw Community Enhancement Committee and the wall owner.
Check out this link for more info on Goal 9: Click Here
Check out this link for more info on Goal 14: Click Here
Check out this link for more info on Goal 15: Click Here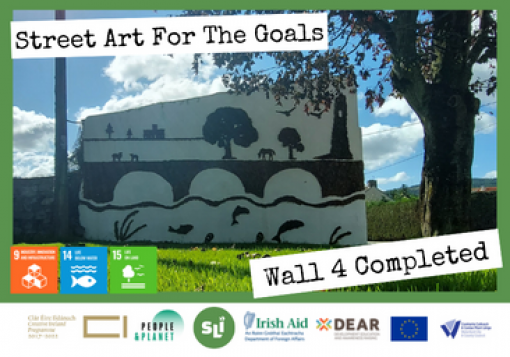 See all Blog stories