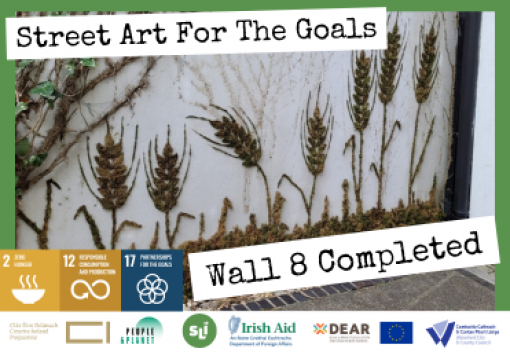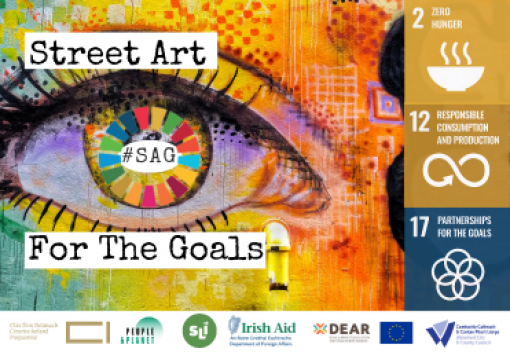 We are thrilled to have completed our second Street Art For The Goals mural over the weekend of this year's Harvest Festival. This living art installation focuses on 'Zero Hunger' as well as 'Responsible Consumption' and 'Partnership For The Goals' as interpreted by visual artist Aga Krym. SLí was delighted to work together with GIY and Garter Lane for this mural which will live on as a legacy of, not only this festival, but also this wonderful project. It was crafted over the weekend inviting festival-goers to see the creative process and provoked conversations around global hunger and sustainable living solutions. The mural now adorns the courtyard of the Garter Lane Arts Centre.
These goals are the heart of GIY's work around food, food systems and looking after our people and planet. The targets of Goal 2 talk about ending hunger, achieving food security, improved nutrition, and sustainable agriculture. Goal 12 is about ensuring our consumption and production of everything can be maintained into the future.
Without working together, we can't achieve anything. To build a better world we need to be supportive, empathetic, inventive, passionate, and above all, cooperative - this is what goal 17 is all about.
Massive thanks to our funders and partners: Creative Waterford, Creative Ireland, #PeopleAndPlanet, DEAR Programme, GIY and Garter Lane.
Check out this link for more info on Goal 2: Click Here
Check out this link for more info on Goal 12: Click Here
Check out this link for more info on Goal 17: Click Here
See all Blog stories