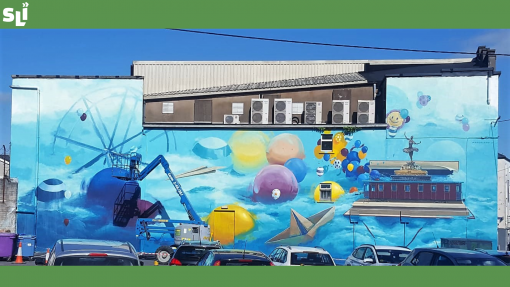 We were ecstatic to be one of the headline walls at this years Waterford Walls festival! We sponsored this wall as part of our People&Planet Project under the banner of a street action - and how more street action can you get than Street Art?! We loved the opportunities this afforded us in terms of interacting and being out and about with people especially in this Covid world. We were able to chat socially distanced and people were able to be involved and intrigued just by walking past the wall - and will be for years to come!
We really believe in the power that street art has to both rejuvenate inner spaces, inspire questioning minds and encourage community resilience. You can see the massive influence it's had on our streets over the years, especially in areas that were once a little neglected and are now thriving. The art inspires and boosts the community and you can see the pride they take after a wall has been painted. All of a sudden the streets are cleaner and window-boxes and hanging baskets are planted all of which have a positive impact on the surrounding environment.
We think this piece by @david.maker and @land.perez rooted around themes of education, sustainability and freedom really looks amazing! As a bonus, these artists work in emulsion which is better than spray paint for the environment. We found this collaboration between such diverse people from the artists to the volunteers to the public so enriching and it really sparks conversations on so many topics. And how lucky that the wall owners are The Book Centre which just marries beautifully with the themes of imagination and education.
Here's what our CEO, Ms. Jennifer Harris had to say:
SLí was thrilled to be part of the Waterford Walls festival as a sponsor. The idea of reclaiming space is in line with our ethos of sustainability and community resilience. The partnership between SLí, The Book Centre and Maker.Land was really positive for us and we love the mural more than pizza! SLí, as part of the EU funded People and Planet Project, was able to participate in this year's festival. We plan to include the mural in our educational activities that promote sustainable living, responsible consumption and taking positive climate action. Our big thanks to Waterford Walls, Maker.Land and DEAR.
Jennifer Harris, CEO SLí
See all Blog stories